Don't take chances with your home's wiring!
We stay up to date on code requirements and cutting edge products,
in order to offer you the highest standards of service excellence.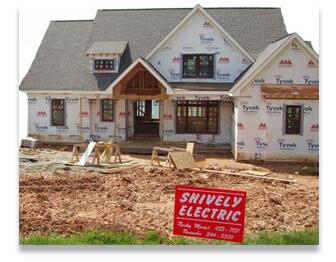 Adding on to your home?
Building a new home?
Have a project in mind?
Need professional help with a do-it yourself project?
Looking for a reliable, experienced contractor?
Thank you for considering Shively Electric for your electrical needs.  We are committed to responding to each call with the best-trained and most courteous technicians available. Shively Electric sponsors a state recognized apprenticeship program, and we are proud of our many graduates.
Residential Photo Gallery
Examples of Services
220V Wiring for Dryers, Stoves, Etc.
Aluminum Wiring Repairs
Attic Whole House Fans
Baseboard Heating
Basement and Attic Wiring
Bath Fans, Lights and Heater Fans
Cable TV Outlets
Cable Wiring
Ceiling Fan Installation
Circuit Breaker/Fuse Box Upgrades
Circuit Separations
Code Updates
Code Violation Corrections
Electric Water Heater Wiring
Electrical Inspection
Equipment Wiring
Generator Installation
Ground Fault Interrupters
Home Automation and Controls
Indoor Security & Emergency Lighting
Interior Lighting Design
Low Voltage Lights / Rope Lighting
Move, Add or Replace Light Fixtures
New Home Construction Wiring
Outdoor Lighting & Electrical
Pool / Spa Controls
Recessed Lighting
Re-Wiring for your Remodeling Projects
Service Panel Installation and Upgrades
Smoke Detector Wiring and Installation
Switch and Receptacle Add or Repairs
Track Lighting
Telephone and Computer Network Cabling
Thermostat and other Control Wiring
Troubleshooting
Underground Wiring
Ventilation Fan and Blower Installation
Whole House Surge Protection
Wireless Home Lighting Control
Wiring for Air Conditioners
Wiring for Electric Heating
Wiring Inspections
Warranty
Our work is covered by our 1 year labor warranty.